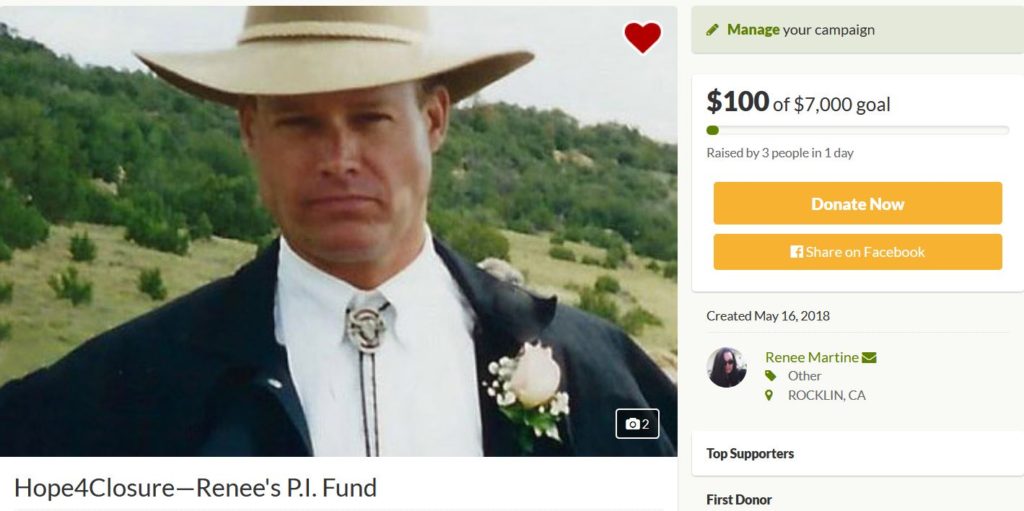 P.I. FUNDS: My name is Renee Martine. Some of you may, or may not know the struggles I've had with law enforcement agencies to seek a proper investigation into the MANY unanswered questions surrounding my brothers death. After years of DIY-P.I. work, I've come up with a lot of pretty substantial red flags starting with my brothers death, but the THREE deaths total in this family unit (Father, Mother, Son) . . .beginning with my brothers passing. All of whom lived in a small town of 122 people.
The bizarre string of deaths are as follows: brother "suicide"—in question, the mother shot in the face, and their sons mysterious drowning, before is 18 birthday. SO much wrong-doing, and WAY to much jaw dropping evidence pointing to the wrong-doing that I need closure on. I've come to the conclusion that in order to get closure I must yield to the professionals.
I have found a local agency that will work with my budget, but I don't really have a budget to work with—ugh! This is where GoFundMe comes into play.
Thank you from my soul for your thoughts and consideration to this funding campaign—whether you donate or not. Your donation will allow me to hire a PI that will resurrect my brothers case and re-open it for a VERY CLOSE and THOROUGH investigation—one in which never took place the first time around, that will in turn bring much needed peace.
In much appreciation—Renee