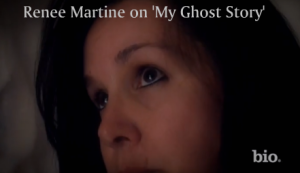 While spirit has always been in my life, I've  been terrorized by them due to the heavy conditioning of my religious upbringing. Since an early age I cannot remember a time when spirit was not in my company. By the age of 40, and one of my last fearful attacks by spirit,  I decided to face my fears and joined several paranormal groups, in hopes to gain a different perspective, and stand my ground—take back my power.
In 2012 I appeared (along with my daughter Alexis) on BioChannel's TV show called "My Ghost Story," to tell the tale of my LAST paranormal induced infliction. While the network told our story with fear-tactics as their premise (typical), I wanted to share the story with you, as this particular paranormal event was the last time I allowed a dysfunctional spirit to invade my space.
Today, seven years later I have learned to except my position as a sensitive and medium. I have worked with many families, and individuals in assisting them with peace and understanding as to what haunts them.
To watch this segment, please click on this link ——> MY GHOST STORY | RENEE MARTINE AND DAUGHTER ALEXIS